About the NoFap® Team
NoFap® is a comprehensive community-based porn recovery website. We offer all the tools our users need to connect with a supportive community of individuals determined to quit porn use and free themselves from compulsive sexual behaviors. With our website, forums, articles and apps, NoFap® helps our users overcome their sexual addictions so they can heal from porn-induced sexual dysfunctions, improve their relationships, and ultimately live their most fulfilling lives.
The following is a non-comprehensive list of NoFap's team members. The whole team, including part-time contractors and volunteers, consists of over 30 individuals, but many of them choose to remain anonymous. Due to the nature of some of the topics that NoFap covers, some team members choose to publicly use aliases instead of their real names.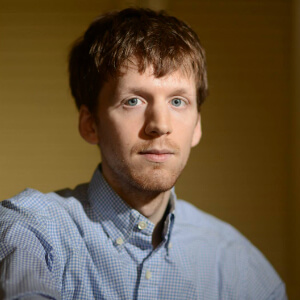 Alexander Rhodes
Founder and General Manager
Alexander founded NoFap officially in June 2011 after perceiving the problem of excessive porn use in himself and others in online discussions for years. Alexander leveraged social media to create a "bio-hacking" laboratory by issuing challenges to abstain from porn and masturbation and encouraging participants to discuss their results. When participants reported experiencing tremendous benefits from abstaining, Alexander recognized the power these challenges held to improve people's lives. He seized the opportunity to help as many people as he could by developing NoFap into a comprehensive community-based porn recovery website. With Alexander's leadership and dedication, NoFap has given thousands of people all the tools and peer-to-peer support they need to overcome porn addiction and other sexual compulsions.
Alexander's highest aspiration in life is to help the most people possible by spreading great ideas through new media. He designed his first webpage at age twelve, touching off his interest in web development. Prior to administering NoFap® full time, he worked as a solo web developer having contracted for everyone from tiny startups to Google Inc. Alexander's interests also include dabbling in the film industry, writing, and petting cats. Alexander graduated with a B.S. in biology from the University of Pittsburgh.
Matthew Plummer
Community Manager
Matthew's passion for human and animal rights found a natural outlet when he found NoFap by searching for articles about the deleterious effects of pornography. He signed up, educated himself and became a passionate proponent of the rebooting process. He was invited to be part of the NoFap team a couple of months later and is happy to be part of this initiative to heal male and female sexuality and make humanity more peaceful and compassionate.
Matthew holds a Bachelor's in Bible, Religion and Philosophy and a Master's in Theological Studies. He uses neither, choosing to instead dedicate his time to helping people quit porn.
Jack Fischer
Developer – Panic Button, Tracker, Badges
Jack discovered NoFap in high school and was immediately captivated by its supportive community and rebooting's power to change lives. After noticing how relapses sometimes occurred despite genuine enthusiasm, Jack started volunteering with NoFap to launch the Emergency tool, an on-demand motivational app that delivers instant motivation to discourage relapse among people recovering from porn addiction. In a sense, the app utilizes the same mechanism that pornography exploits – the dopamine reward pathway – to encourage the brain to work for itself.
Now, across platforms, the panic button is used over 6 million times a year. The app's users report that it is quicker and easier to use the panic button than it is to relapse, giving them the burst of motivation and clear-headedness they need to make the right decision. Jack later delivered the TEDx talk "Porn: The New Tobacco" based on the destructive effects widespread consumption of porn is having and its disturbing parallels to tobacco use a generation ago. Today, Jack built and maintains NoFap's progress-tracking counter and Reddit integration systems.
Daniel Romero
Volunteer Developer – iOS
An aspiring iOS developer, Daniel teamed up with Jack Fischer to port the NoFap Emergency app onto the iOS platform. Daniel worked on the app in his spare time all while not being fully aware of the immense community he had just gotten himself involved with. Daniel soon found himself looking through all the motivational content that the NoFap Emergency app provides, and really started to believe there was a benefit to those recovering from porn addiction. Like many men in their early 20s, Daniel had been a regular consumer of Internet pornography. Once he applied himself to the challenges set forth by members of the community, he has never looked back.
Daniel is currently going for a Bachelor of Arts in Mathematics with a minor in Computer Science at Binghamton University, State University of New York. He has a passion for iOS development, and aspires to become a professional mobile applications developer.

"The General"
Software Engineer and Project Manager – The War
Deep behind the front lines of NoFap's "War" accountability game lies the clandestine bunker of the man simply known as "The General". While his true identity remains a mystery to all but the top echelon of the NoFap Army, he remains the power behind the War—a series of six-week, "most left standing" engagements between the ranks of the courageous Orange and the valorous Periwinkle armies. A gifted tactician and brilliant strategist, The General has proven time and again that the barbaric horde of pornography addiction is no match for his ability to rally the troops of NoFap using only jQuery, CSS, PHP, and grit.

Duke Stevens
Writer and Editor
Duke first became aware of NoFap by spending far too much time browsing Reddit. He was introduced to NoFap's team in early 2015 to help wordsmith some of the static pages and generate fresh content. Duke believes in the message and mission of NoFap and is happy for the chance to support a project he believes will make the world a better place.
Duke holds a Bachelor's in English Literature and an Associate's in Graphic Design. After a decade designing and maintaining web pages, he has shifted his focus to writing full time.
Mark Queppet
Director of Education, Reboot Camp
Mark's work with porn addiction is the product of an unstoppable force hitting a seemingly immovable object. The force was his passion for personal and spiritual growth and the immovable object was his addiction to porn. Thank goodness for this struggle, though, because it forced him to learn the mechanics of creating a life transformation in painstaking detail.
Once he finally conquered his own porn addiction, Mark started the Sacred Sexuality Project where he made it his mission to share what he learned with others so that they could achieve the same result. Through the SSP he began posting support videos and taking personal coaching clients to help people quit porn. As his approach to quitting porn continued to prove successful, it was only a matter of time until he met Alexander and they teamed up to form Reboot Camp.
Mark has a degree in Computer Science from University of Delaware and is also a Certified Professional Coach from the iPEC school of coaching. Reboot Camp is NoFap's recommended expert-to-rebooter support channel. It provides a weekly newsletter from rebooting experts Alexander Rhodes and Mark Queppet and hosts a comprehensive program to quitting porn which includes the Get Clean! E-Course, a private member forum, and weekly group mentoring calls.